In the past couple of weeks, we've had quite a few folks asking us what types of flies we are using to get all these big bull reds we're posting pictures of. So we figured we would knock out a little video showing how to tie one of the quickest and easiest baitfish patterns, the Seaducer. This has been one of our go to flies while chasing all these larger fish.
For these bulls, we prefer to tie this fly unweighted. The large 3/0 hook is plenty of weight to get it down a few inches and into their strike zone. And we are wanting this fly to hover a bit more as it's being stripped through the water. These big bulls have been cruising in water between one and two feet deep. So this fly floats perfectly in the water column where they can see it easily and not have to dig through the grass to get it.
We tie this specific fly very large for the bull reds we've been targeting here in Texas lately. Also, they've preferred darker colors most days. So black and purple has been our favorite. But this fly is also very effective when tied a bit smaller and in any variety of colors to mimic baitfish in the system you are fishing.
The Seaducer fly ingredients are listed both in the description on the YouTube site, as well as below here. And of course you can always check out more of our favorite fly patterns in our flies section of our website. And of course if you ever have any questions at all, feel free to Contact Us at anytime and we will be more than happy to help.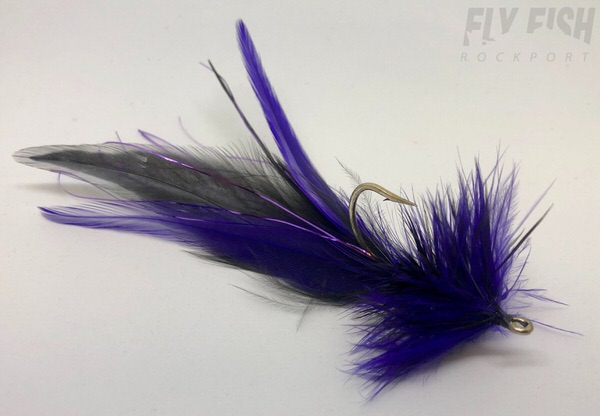 Seaducer Fly Ingredients:
Hook – Gamakatsu SS15 size 3/0
Thread – Uni Thread 6/0
Flash – Flashabou purple
Tail – Saddle Hackle black & purple
Body – Saddle Hackle black & purple