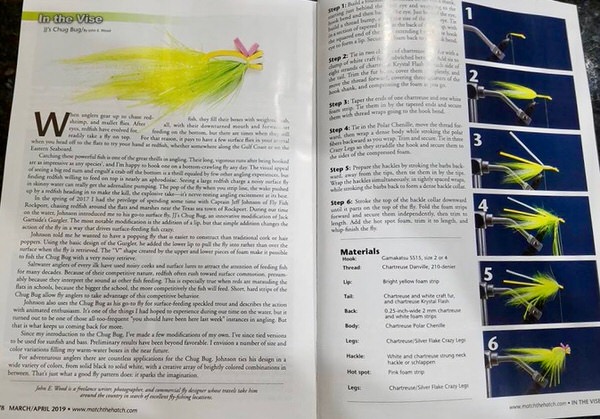 Similar to our recent post about the Crabcake Special fly. We just found out the other day that JJ's Chug Bug fly pattern was also featured in Southwest Fly Fishing Magazine. It should be appearing in the March/April issue, in their In The Vice segment.
This is the second pattern from Captain Jeff that Southwest Fly Fishing Magazine has featured, and another good one. This is one of his favorite topwater patterns for the for the flats of Southwest Texas. But he has also fished this fly to catch trout, jacks, snook and even tarpon. So clearly a good fly to have in the arsenal.
You can find more info about this pattern, and many of our other favorites, on our website HERE. Or of course you can Contact Us anytime and we are more than happy to help you out with any questions you may have about tying one of our fly patterns.
Join the Fly Fish Rockport newsletter to get future posts right in your inbox.