Meet Captain Jeff Johnson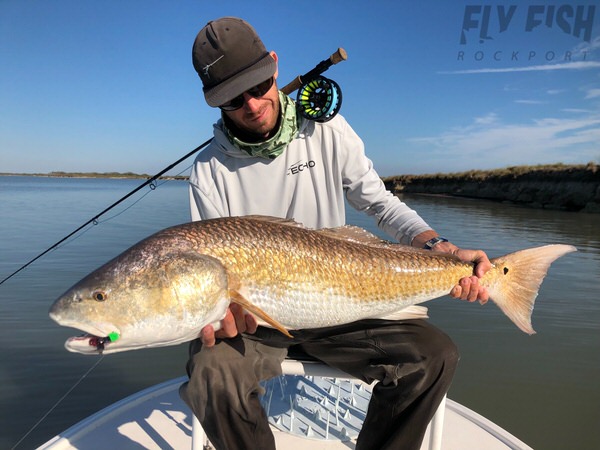 Captain Jeff Johnson is the Owner, and Head Guide, of Fly Fish Rockport. Fly Fish Rockport is a result of a passion for fly fishing, exceedingly long Winters in Montana, the undeniable lure of the salt and a love for the waters in Rockport, and the Coastal Bend of Texas.
Since the year of inception, Fly Fish Rockport has quickly become a known and respected name in the saltwater fly fishing industry. Capt. Jeff's passion for guiding, knowledge of the fly fishing industry, and experience in all facets of fly fishing make him a skilled guide, teacher and talented leader, both on and off the water.
U.S. Coast Guard Master Captain

Licensed and Insured TPWD Guide
Captain Jeff Johnson is Owner, and Head Guide, for Fly Fish Rockport. He is well known, and respected, throughout the saltwater, and freshwater fly fishing industry. His knowledge of the Texas flats, coupled with his time guiding in Montana, and his experiences fly fishing around the globe help make him uniquely qualified to guide anglers of every skill level and experience.
Jeff's affinity for fly fishing began at a young age.  He could often be found along the banks of irrigation canals, ponds or the Yakima River, a blue ribbon trout stream near his home in Central Washington. But while fishing has  always a big part of his life, snowboarding was truly Jeff's first love.
As his teenage years progressed, Jeff's professional snowboarding career began to take off. This enabled him to travel around the world, but he always found the time to foster his other passion, fly fishing. He was fortunate that his primary "job" of snowboarding, took him to places, and allowed him access to waters and experiences that most would only dream of. While the snowboarding chapter of his life was in full swing, Jeff made his home in Bozeman, Montana to begin his college career, as well as get to know the all of Montana's best fly fishing rivers. This is where his love of the Missouri River was born, and led to the beginning of his guide career.
Finishing up college at Montana State, with a couple of business degrees, Jeff then headed West to Portland, Oregon to continue his snowboarding career and chase steelhead up and down the coastal rivers with his spey rod. But after a lengthy, 15 year, career as a professional snowboarder, it was finally time for the next chapter of his life. So he dawned the suit and tie, going corporate in the city of Portland and even earning an M.B.A. in the process. Burning vacation days faster than he could replenish them, Capt. Jeff continued to fish every chance he could get. If he wasn't swinging a fly, you could find him in The Keys, Bahamas, Belize or pretty much anywhere else he could stalk fish with his fly rod.
But as rewarding as the suit and tie gig was for Jeff, life happened. This eventually led him back to the Missouri River in Montana, and then the flats of Texas. He has been sharing his passion and knowledge with anglers in both locations ever since. Jeff now spends over 300 days each year in the boat with clients from around the globe, and loves the diversity, challenges, and rewards this provides. It's clear that Capt. Jeff is exactly where he is supposed to be… on the water.
When he is not poling or rowing a boat, you may want to look for Capt. Jeff on the golf course, where he is most certainly avoiding computer work. An avid golfer, and single digit handicapper, Jeff loves squeezing in a round after a day on the water.
Captain Jeff has contributed to numerous publications. His life and work have been featured in The Fly Fish Journal, The Drake Magazine, Southwest Fly Fishing Magazine, Sport Fishing Magazine, Texas Lifestyle Magazine, Chi Wulff, The Bend Magazine, Venturing Angler and many others. Despite his wide breadth of knowledge and experience, Captain Jeff remains a patient and proficient teacher. His humor, patience, and eagerness to teach make any angler's experience enjoyable and rewarding.