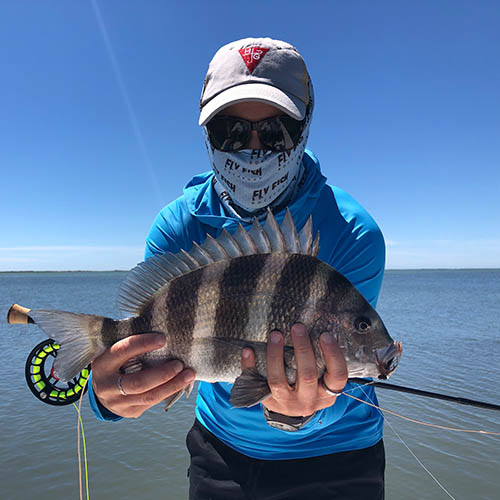 Surrounded by two Federal Wildlife Preserves and protected from the Gulf by the Matagorda Peninsula, East Matagorda Bay is part of the Matagorda Bay estuary, one of the third largest in Texas. The water in this bay is known to be exceptionally healthy and clean due to the two large Federal Wildlife Preserves and lack of pollution. But clean does not always mean clear.
East Matagorda bay and the Northeastern corner of Matagorda Bay are greatly affected by the confluence with the Colorado River. Depending on conditions, this can often make these waters off color and difficult for sight fishing. Particularly on days with a North wind, it can be difficult to find clear, or even fishable, water. However with a prevailing Southeast wind, the waters sheltered by the Matagorda Peninsula will remain clear and provide very good fishing for redfish, trout, flounder and sheepshead.
Fly Fishing East Matagorda Bay is consistently good. This bay boasts numerous shell reefs and is well known for its population of larger than average spotted sea trout, and robust numbers of redfish and flounder. The mixture of soft mud bottom and oyster create a healthy environment for crab, shrimp and a variety of baitfish. All of which make this an excellent habitat for our target species.
East Matagorda Bay is the Northernmost body of water that our Fly Fish Rockport fly fishing guides frequent. At just over an hours drive from Rockport, Texas, we often launch our skiffs at the Waterfront Park in the town of Matagorda.
Location on map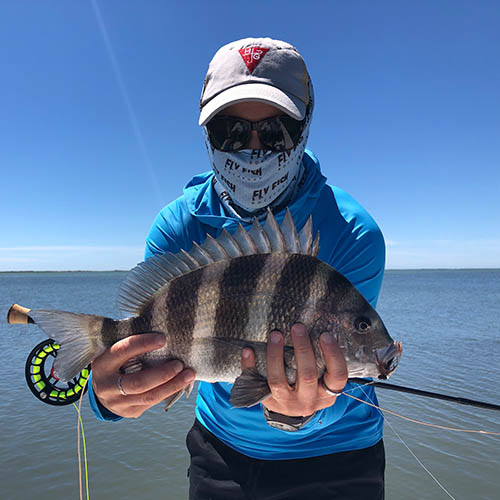 East Matagorda Bay
East Matagorda Bay, Texas, USA