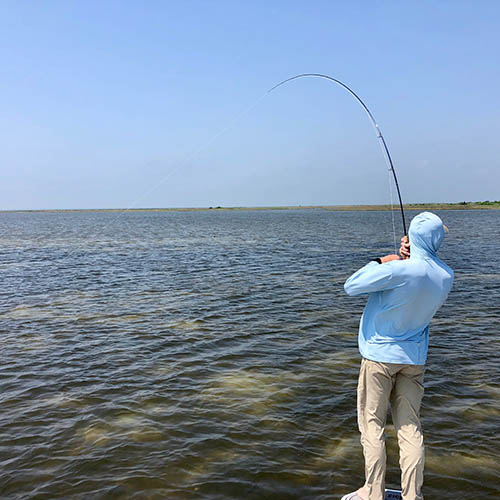 Espiritu Santo Bay is a sixteen mile long bay that is actually the Northeastern extension of San Antonio Bay. The name Espiritu Santo means "Holy Spirit". This area received its name from the Spanish explorers that first discovered it. This body of water is separated from Matagorda Bay to the North by a line of barrier islands. To the South, there are a limited number of islands and shell reefs where this bay joins San Antonio Bay.
This bay provides anglers a variety of different waters to fish. There are countless miles of grassy banks, tidal lakes, sand and mud flats and oyster reefs, all of which hold excellent populations of fish throughout the year. Fishing along Matagorda Island provides the necessary wind cover and endless opportunities for flats fishing with a fly rod.
Redfish, trout, drum and sheepshead are all available in excellent numbers within Espiritu Santo Bay. But due to the close proximity of the port and Gulf of Mexico, there are often opportunities for other migratory fish in the area. Triple tail and jack crevalle are the most frequently seen, but other fish can enter this system as well.
These waters are most commonly accessed by anglers fishing out of Port O'Connor, Texas. This is a short 40 minute drive for our Rockport fly fishing guides, and they do it often. Although the Southernmost reaches of this bay can be accessed easily from the marinas on the North end of Rockport; St. Charles Bay or Goose Island State Park. This is an easy run in the skiff that is typically 20 minutes or so.
Location on map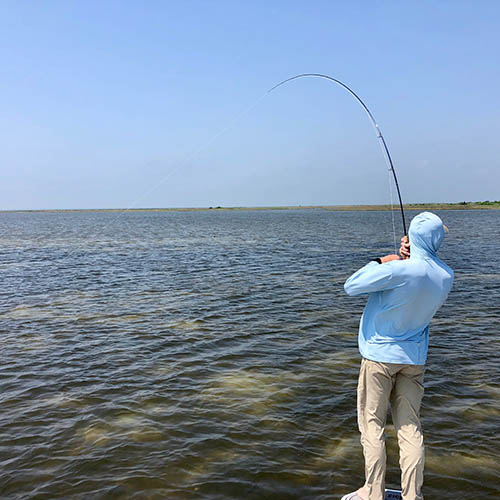 Espiritu Santo Bay
Espiritu Santo Bay, Texas, USA