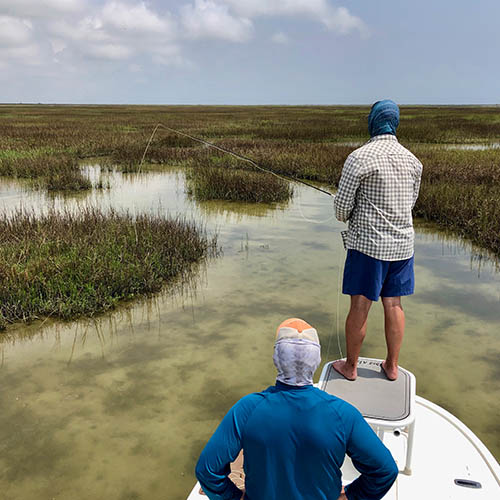 St. Charles Bay is a small protected bay that is an offshoot of Aransas Bay, located just on the Northern end of Rockport, Texas. Angling inland to the Northeast, this bay is a favorite of our Rockport fly fishing guides to fish during the Winter months or a sturdy North Wind. The angle at which many of the banks run, provide better than average relief from the North winds.

Featuring long grass and sand shorelines, that are broken up by numerous creeks and cuts, St. Charles Bay provides a haven for our redfish. With strong tidal movements, these creeks and cuts are flooded with fish ready to ambush bait adrift in the current. There are very few other areas with so many such cuts in a small compact area.
St. Charles Bay is made up of a variety of structure. Grass flats, sand, crushed shell, oyster reefs and larges expanses of mud bottom are most common. Many of these softer mud bottom areas can be popular with our redfish when the water temperatures drop in the Winter. Many of these back marshes and lakes will remain warmer than other area bays and provide better fishing during these colder periods.
In addition to the excellent fishing, this bay is well known for it's valued ecosystem as well. St. Charles Bay is surrounded on one side by the Aransas National Wildlife Refuge. This area is most known for supplying a protected breeding ground for the endangered Whooping Crane. These cranes frequent the areas from October through April and are always a crowd favorite. But we frequently see other animals as well; alligators, deer, bobcats, racoons and wild pigs.
Location on map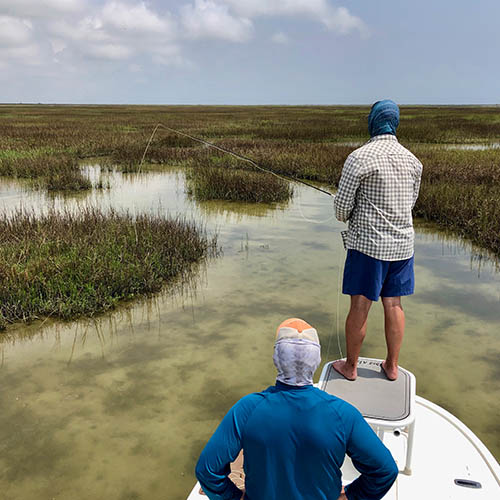 St. Charles Bay
St Charles Bay, Texas, USA