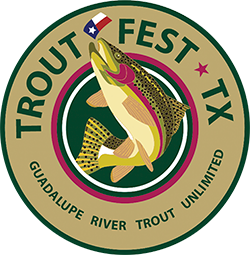 As we sit here, on a rainy and cold Tuesday, we wanted remind everyone that we will be heading North to the Guadalupe River on Friday. GRTU's Troutfest is this coming weekend, and we will be hanging out in our booth with the crew from Towee Boats.
GRTU's Troutfest Texas is the largest event of its kind in Texas and brings out a crowd of over 3,000 people interested in fly fishing and preserving and protecting cold water fisheries. The event is hosted by the Guadalupe River Chapter of Trout Unlimited, the largest TU chapter in the country with over 5,500 members. The three-day event includes keynote speakers, live auctions, casting instruction, gear demo's and all types of other fun stuff.
If you are bored this weekend, and want to come hang out with a bunch of fishy folks, this is a great event for kids and an awesome way to help out our local chapter of T.U. Swing by our booth and check out the new Towee micro skiff. Or enter to win a free guided fishing trip through the raffle. We will be there handing out all kinds of free swag to folks that stop by.
For more information CLICK HERE.
Join the Fly Fish Rockport newsletter to get future posts right in your inbox.